---
iTunes DJ is like my personal radio. I use a unique smart playlist as source, delivering a first-class digest of my library. This way I can achieve a selection of homogeneous quality that spans a wide spectrum of genres.
If you're interested to build your own Grand Mix playlist, consider to combine the following filterings to refine your library content :
Focus on the tunes that you like
It's hard to conceive a routine-playlist that doesn't filter ratings in some way. Be strict but not too much, or the resulting pool of songs will be too restricted.
Having a ratings metric defined, this step is a no-brainer : on my scale it sets the bar at 3★.

Bias to play the best songs
Some players offer to boost occurrences of highly rated tunes. It's a nice way to rise the quality while keeping a large pool of songs to dip into.
Have you ever wondered what does result from activating the Play higher rated songs more often iTunes DJ setting? I did the test (see graph below).
I like how not only 5★ but 4★ songs distribution too are positively affected by this setting.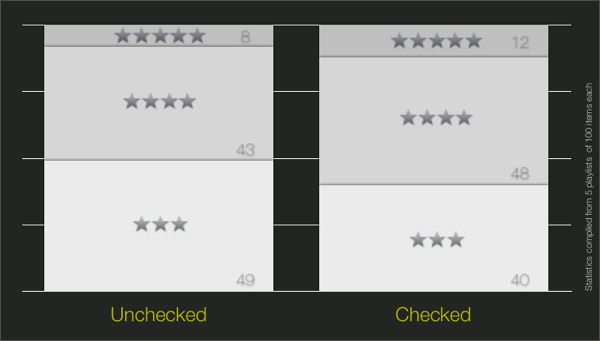 Low bitrate ditching
Do you play music through good hi-fi speakers? Then, it may help to ignore files not satisfying a minimum quality standard by keeping only those whose Bit Rate is greater than a given threshold.

Genre rebalancing
I used to be a reggae monomaniac during my boyhood, my tastes have considerably spread since but I have accumulated a large number of reggae releases from these years, making this genre over-represented in my library.
The solution to deal with an unbalanced library, dominated by few genres when you strive for diversity, consists to apply ratings filterings by genre.
In my case, ratings threshold for reggae songs is 4★ whereas songs rated as low as 3★ are accepted for others genres.

Genre exclusion
Sometimes the perceived quality depend highly on the listening context: classic example is Christmas songs, always welcomed for snowy days, not that much the rest of the year. In the same vein, I would play clubbing tunes during a party but otherwise this genre tends to quickly bore me.
These context-specific songs are outside of the scope of a daily routine playlist, so I prefer to simply filter out their corresponding genres.